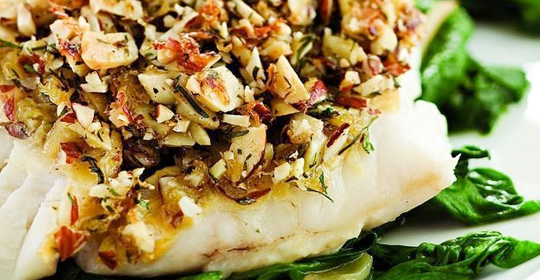 Almond-&-Lemon-Crusted Fish with Spinach
Cook Time: 25 minutes
Ingredients
Zest and juice of 1 lemon, divided
½ Cup sliced almonds, coarsely chopped
1 Tbsp finely chopped fresh dill    [or 1 tsp dried dill]
1 Tbsp plus 2 tsps extra-virgin olive oil, divided
1 tsp kosher salt, divided
Freshly ground pepper to taste
1¼ pounds cod or halibut, cut into 4 portions
4 tsps Dijon mustard
2 cloves garlic, slivered
1 pound baby spinach
Lemon wedges for garnish
Directions
Preheat oven to 400°F.
Coat a rimmed baking sheet with cooking spray.
Combine in a bowl:

lemon zest
almonds
dill
1 Tbsp oil
½ tsp salt and pepper.

Place fish on the baking sheet and spread each portion with 1 teaspoon mustard.
Divide the almond mixture among the portions, pressing it onto the mustard.
Bake the fish until opaque in the center, about 7 to 9 minutes, depending on thickness.
Heat the remaining 2 teaspoons oil in a Dutch oven over medium heat.
Add garlic and cook about 30 seconds, stirring, until fragrant but not brown.
Stir in spinach, lemon juice and the remaining ½ teaspoon salt; season with pepper.
Cook 2 to 4 minutes, stirring often, until the spinach is just wilted. Cover to keep warm.
Serve the fish with the spinach and lemon wedges, if desired.