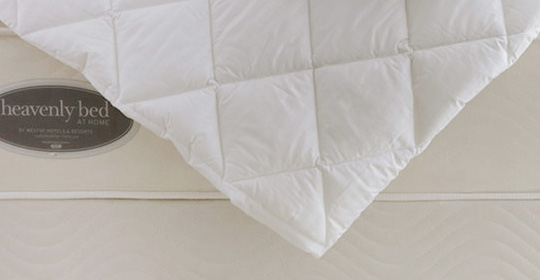 In 1999 Westin Hotels introduced the Westin Heavenly Bed offering millions of guests a deep and restful sleep. But it wasn't just a bed: it's a custom pillow-top mattress, layers of linens (a fitted sheet, middle sheet and flat sheet), cozy down blanket, custom duvet and very plush pillows (feather, down and down alternative). Many in the Starwood Hotels family followed suit: Sheraton, W Hotels, Aloft, Four Points to name a few.
Conrad Hotels offered guests a pillow menu to select their choice based on firmness, shape or sleep habits. In 2013 JW Marriott started their Nightly Refresh Program adding a mixture of aromatic oils and a selection of flavored chocolates intended to help guests relax before bedtime. The Benjamin Hotel went a step beyond and added a sleep consultant on staff to advise guests on choosing the right pillow and what to eat before bed.
All of these top-end hotels focused on exceeding their clients' expectations and creating environments perceived as clean, neat and luxurious – fluffy, puffy and white. Beds with layers you can sink into.
So how do we get this same result in our own home?
Most of us put together a bedroom based around decorating: a theme, a color scheme or items we've gathered over the years. Consider a change in the linens. White naturally associates with clean, which in turn is seen as comfortable, soft and dreamy. Use a duvet that has a little weight (not too little, not too much) to achieve a feeling of calm and comfort. Use a variety of pillow types that are fluffy (feather, down, down alternative).
Keep your sanctuary simple. Remember high thread count in the sheets is not the deciding factor for the linens. It is the quality of the thread or fiber that matters. Sheets made of a better quality fiber with a lower thread count feel softer and stand up to washing much better than sheets made of a lower-quality fiber and a high thread count.
If white is not for you, consider choosing color combinations that are calm, comforting and tranquil. Just painting the walls of the room can have a dramatic affect. Research has shown the power of color affects your overall state of mind and body. It can affect your sleep patterns and your mood. A March 24, 2016 HouseBeautiful article listed Blue, Yellow and Green hues as the top three color palettes contributing to better sleep.
The following colors and the moods they create may be something to consider to get the rest you need.
Cool Blue – a calm and serene environment
Silver Gray – a romantic feel
Dark Gray-Blue – soothing and calm
Earthy Brown – helps you relax
Soft Light Lavender – a tranquil, quiet space
Soft Neutral Green (has a bit of gray in it) – elicit feelings of serenity and contentment.
Sleep well – Be well.